Remote Control Drapes and Curtains: Introduction
The CurtainCloser™ is our remote control curtain and drapery motor system for residential and commercial applications. It can be operated with any of our multi-channel hand held or wall mount remote controls.
It is also fully compatible with our optional Z-Wave group controller. You can use it with any native Zwave hub for Alexa integration, such as SmartThings, Hubitat, Vera, Wink, Homeseer, etc.
Here's a short video of a bare track that we picked up from a local home hardware store. It would normally have a curtain suspended from the cars that run along the track. We used a bracket to mount the motor on this demo unit, but it is normally screwed directly into the wall, hidden behind the end of the curtain.
This kit can be used with our TrackGlider™ rail system, or it can be adapted for use with just about any type of curtain rail or drapery track from any home hardware store. The multi-channel remote control system is also compatible with our roller blind, skylight shade, and window opener kits.
Here's a short video of some curved track, showing the CurtainCloser™ drapery motors used with our TrackGlider™ rail system:
This works well for bay windows!
Note the double track section shown below the curved track. You can double up the track to operate both semi-transparent sheer and blackout curtains. We have special dual track spacers that will maintain a constant separation for curved track.
You can use nylon cord (or bead chain, as pictured) to drive the system, keeping in mind that you are not lifting anything, only pulling curtains or drapery (or something else) along a track that usually has very low friction and motion resistance.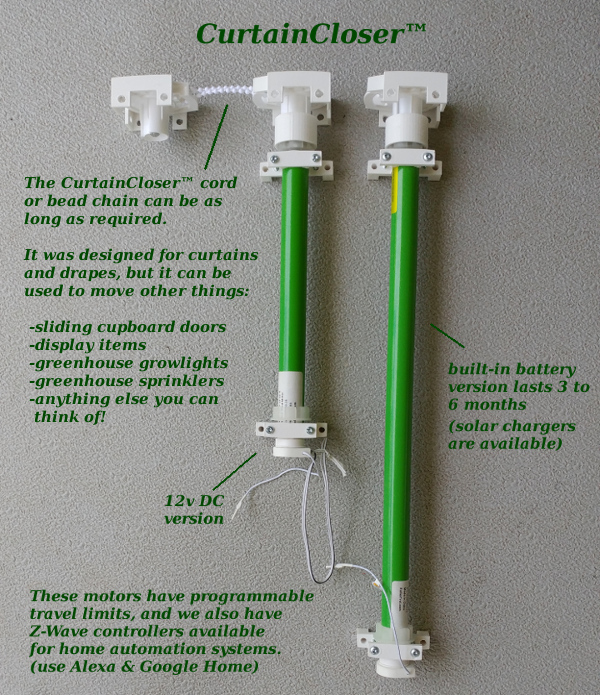 The radio controlled CurtainCloser™ sytem has a low power, very safe and energy efficient motor that runs on 12 volts DC and can be solar and/or battery powered. The 12v version also comes with a 110/220 AC power supply if you want to run the motors from grid power.
Summary of features:
Works with just about any type of track
Optional Z-Wave controller enables compatiblity with many automation hubs
Radio compatibility with our multi-channel remotes
Radio compatibility with our BroadLink™ hub (control with phone, tablet, etc.)
Battery backup with RV, marine, car, motorcycle, or LiPo battery
Motor with built-in battery is also available
Please Note: The CurtainCloser sprocket holders are designed to be used on flat walls, so if you are mounting them on irregular surfaces, please take care not to stress the mounting tabs when they are screwed in.
The CurtainCloser™ kits are available for purchase in our online store:
drapery, curtain opener motor kit
We sincerely hope you enjoy using these advanced motors; if you have any questions or require pricing, please feel free to contact us at any time!